RECORDING KING MADISON BANJOS FOR SALE AT ARTISTE BANJOS NZ. In the USA Recording King is a brand name with 80 years of American heritage, it's a working mans pre war instrument accessible to all with high end values & features.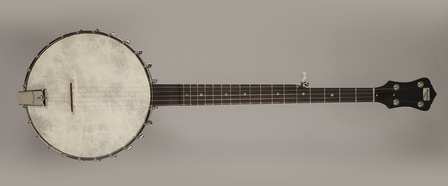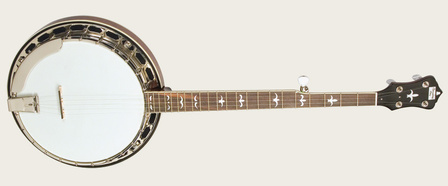 RECORDING KING WAS ORIGINALLY A HOUSE BRAND IN THE 1930's, KNOWN AS THE GOLDEN AGE FOR MUSICAL INSTRUMENTS. TO SET THE HISTORICAL CONTEXT, THE GOLDEN AGE OF MUSIC EMANATED FROM THE MUSICAL EXPLOSION OF THE 1920's. THE ELECTRIC MICROPHONE WAS INVENTED IN 1925, AND THE FIRST TALKING MOVIE THE JAZZ SINGER IN 1927. THE JAZZ ERA, DANCE BANDS, AND HOUSE BANDS OF THE TWENTIES, LEAD TO AND ALONG WITH ADVANCES IN SOUND AND FILM RECORDING TECHNOLOGY TO THE GOLDEN AGE FOR MUSICAL INSTRUMENTS, AND THE GOLDEN AGE OF HOLLYWOOD. THIS ERA IS WHERE THE STANDARD OR REFERENCE FOR SOUND, TONE AND CONSTRUCTION METHODS AND MATERIALS FOR THE RECORDING KING RANGE IS DERIVED FROM.
THE SOUND AND STYLE OF THESE CLASSIC INSTRUMENTS IS RECREATED IN THE VINTAGE DESIGNS AND HAND ASSEMBLED PARTS OF THE RK MADISON RANGE. RK 's LUTHIERS HAVE REVIVED THE PAST FOR TODAYS MODERN PLAYERS BUT HAVE DONE SO WITH RESPECT FOR TRADITION AND HISTORY. TODAYS RE ISSUES HAVE THE LOOK FEEL AND SOUND OF THE CLASSIC MODELS OF YESTERYEAR WITH ENHANCEMENTS FOR TODAYS CONTEMPORY PLAYERS.
HERE ARE A FEW OF THE RECORDING ARTISTES WHO PLAY THE RECORDING KING RANGE OF BANJOS :-
BELA FLECK AND THE FLECKTONES, RECORDING KING BANJO Live at the quick DVD :-
a must have, (Amazon).
ROB McCOURY THE DEL McCOURY BAND, RECORDING KING BANJO
JOHNNY BUTTON, RECORDING KING BANJO
DICK BROWN COPPER RIVER BAND, RECORDING KING BANJO
MARY COX, RECORDING KING BANJO
CHRISS QUINN, RECORDING KING BANJO
MAX JOHNSTON, RECORDING KING BANJO
TO GIVE JUST A TASTE !