BANJOS FOR SALE NZ / 5 String Banjo / Bluegrass Banjos NZ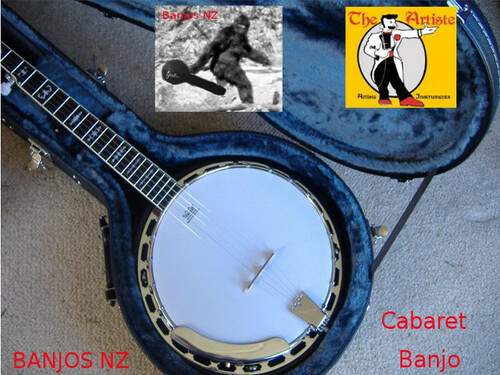 VIEW Cabaret Banjo + Case + Strap + Tuner = $620 + $30 p&p

OUR BANJOS ARE SET UP AND READY TO PLAY ! 

BANJOS FOR SALE NZ Cabaret Banjo In stock  BUY NOW !
CABARET BANJO NZ, 5 String Banjos,10 Plus years of NZ 5 String Bluegrass Banjo sales                                                                                                         
Cabaret Banjo Includes Hard Case, Banjo Strap & Digital Tuner !)
As a company we are committed to providing you with sales of high quality and value musical instruments at affordable prices. That means quality parts with professional Banjo design and Banjo services.
100% New Zealand owned and operated there is no middleman, you get direct prices for quality musical instruments.
Our mission is to bring a New Zealand brand of quality musical instruments to New Zealand at New Zealand prices !, we skip the traditional retail outlet - brand - wholesaler / distributor – factory chain with the inevitable markups, and purchase our Banjos direct from the manufacturer so that you have an alternative to paying inflated brand prices, therefore you get the best price and value musical instruments as any expensive brand name.
You will not find our Banjos in any NZ store as we do not to sell to other retailers, we market and sell our products online to reduce costs to the customer. Our instruments are built to the same quality and standards as many high end brand names at the same factories, but you do not pay the same price as any inflated brand name for the same musical instruments.            
Banjo 1              Banjo 2               Banjo 3              Banjo 4
DELIVERY TIME 2-3 WORKING DAYS ON ALL PRODUCTS.

PAY BY CREDIT CARD & ONLINE BANKING

WHEN YOUR CREDIT CARD DETAILS ARE REQUIRED YOU ARE TRANSFERRED IN ADVANCE TO THE ANZ SECURE ENVIRONMENT. THEREFORE :-

ALL CREDIT CARD DETAILS ARE TRANSACTED BY THE ANZ, NO CREDIT CARD DETAILS STORED ON OUR SERVERS, NOR IN OUR PREMISES