Generic Artist introductory Style of Banjo .. Sometimes labelled  BJ01,  BJ04, BJ05, or BJ06. This is the standard nomenclature for introductory generic banjos.
Look out for any of this style of drop shipped banjos as opposed to a bricks and mortar store, they are not "set up' , oh ! go to the net and find out ?, nowhere to pickup ? , oh dear !, not a recipe for purchasing Banjos, BANJOS NZ CABARET BANJOS come set up and ready to play !)
OK, BJ for banjo that's easy, BJ04 for a 4 string tenor banjo, BJ05 for a five string banjo (Bluegrass or Old Time) and BJ06 6 string for a Banjo Guitar.
"Whether you're a professional musician or an absolute beginner, these banjos will be a great addition to your collection !" don't think so.

"With features you'd expect on a more expensive banjo"

Seriously unless you are hard strapped for cash steer clear of this style of banjo, poorly constructed, poor sounding, no setup and little or no resale value.

There are many Banjos advertised as "Artist" banjos, eg Ibanez, Fender, Deering to name but a few. None of these are related to the Cabaret Banjo
A common confusion, what is the difference between Artist and Artiste ?
An artist paints, draws, sculpts, makes a film or is skilled with something involving perception and the use of their hands. ... An artiste is a professional entertainer, especially a musician singer or dancer: cabaret artiste's.
Below is an example of a generic o low end introductory banjo.
Below is a typical Generic constructed Banjo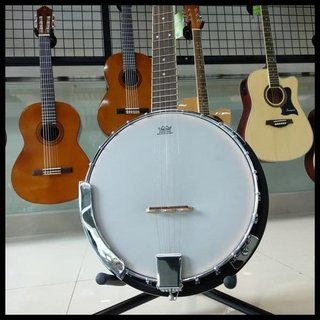 Below Is a Cabaret Banjo !